PostNL
— Creating a culture for change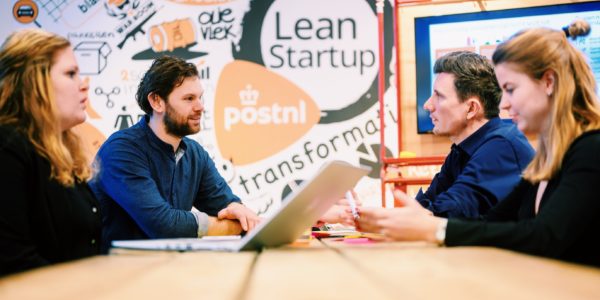 Challenge
How do we create an ecosystem to understand customer needs, explore value propositions and validate new business models?
Solution
A dedicated team of service designers, growth hackers and design researchers that bring ideas to life and accelerate learning.
Exploring opportunities in a digital world
Digital is transforming every business and every market. Especially traditional markets are pushed to a transformation in order to survive. PostNL found itself in the same position. The postal market has been shrinking for years. On the other hand, the market for parcels is experiencing a significant growth. Which is great, if it wasn't for the fact that the number of parcel delivery services is growing at the same rate. Time for PostNL to explore new markets. In a close collaboration with PostNL and our friends from Essense and Dearnova we set out to constantly experiment with new propositions in the innovation studio.

A territory unexplored
Exploring new opportunities and uncovering customer needs is always an exciting journey. The perfect opportunity to apply venture design and design research in its purest form. Collecting insights, generating ideas, creating prototypes and checking with customers to see what works. Again and again. And again.
Innovation Studio
To set the stage for innovation, PostNL created their own studio. Purposely positioned outside of the headquarters for more freedom. B.Amsterdam seemed like the perfect place. Surrounded by loads of other startups and creatives to interact with. The Innovation Studio is the homebase of the process. It facilitates a 100-day program designed to create, explore and validate new ideas. Keeping track of what works and what could be better.

Bringing awesome ideas to life is a way of working
We have several team members working at the studio. Most of our time is dedicated to bringing new ideas to life. Whether they come from inside the business or from the world outside, we welcome them with open arms. Improving the innovation process is another essential part of our job. This is an ongoing job in which we keep discovering the best practices with our partners.
Innovative mail services
"That's all great, but what are those awesome ideas?", you might be wondering. To paint a clearer picture of what's going on in the Innovation Studio, here's an innovative idea that came along: an all-in luggage service. One of the worst parts about going on a holiday? Exactly, dragging those big pieces of luggage with you everywhere you go. With the PostNL luggage service your bags will be picked up at home and checked in at the airport. All you have to do is go to the airport with your hand luggage and pick up your bags at your place of destination.