KPN
— Creating business value by helping customers to leave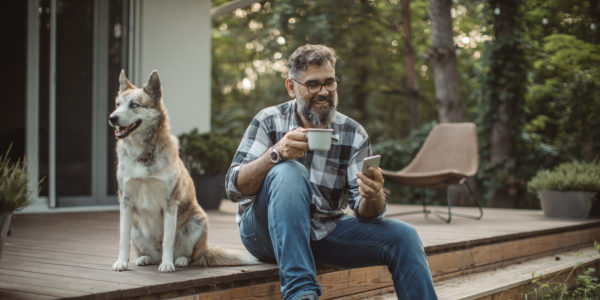 Challenge
Before, customers could only cancel their KPN subscription by phone. But once on the phone, KPN noticed that customers wanted to cancel their subscription for reasons that could easily be solved online. The challenge? Helping customers with spot-on online solutions, and therewith reduce expensive calls to the service center and minimize cancellations.
Solution
We felt like we could get to the right solution fast with the right people in the room. So we decided to set up a design sprint. We built and tested a new cancellation flow in just 5 days to answer the most burning questions.

Sprint to a solution
When sprinting, we think the Google Design Sprint method is a great foundation, but experience has shown that a few tweaks here and there makes it even better.
The main goal in a design sprint is to learn. Not to build a pixel perfect prototype. It simply has to answer our research questions. So as always, we started off the design sprint by sharpening our challenge, context and goal. Based on input from experts, customers and the sprint team, we listed the most important questions we needed to answer.
Questions, questions, questions…
What are the problems that cause people to visit the cancellation page on the KPN website? And how can we recognize a customer's real problem? For which of these problems is it possible to offer a fitting solution? And through this all, how can we retain the right tone of voice towards customers who might be quite unhappy?

From loads of solutions to a tangible prototype
After we decided what we wanted to learn came the fun part. We went all out and thought of loads of solutions. We voted on the best ideas and translated these into a storyboard and eventually an interactive prototype. We built a flow that carefully uncovers the problem that customers experience and guides them towards the right solution. At the same time we kept it easy to cancel directly, because we're not here to make cancelling a labyrinth.

"

Are you leaving? No hard feelings"
We wanted to create a happy cancellation flow. Because saying goodbye is part of life, we included a ​'goodbye video' of one of the KPN team members at the end of the flow. This genuine personal touch was one of the things that was liked best during the testing of the prototype.

Mission accomplished!
After the design sprint KPN A/​B tested the new cancellation flow against the existing flow. The results were convincing. The new journey served customers much better and therefore led to a significant decrease in cancellations and contact cost reduction. We'd love to share the total business value to blow you away, but that's confidential :) Long story short: mission accomplished!