KLM Cargo
— Reimagining the future of cargo import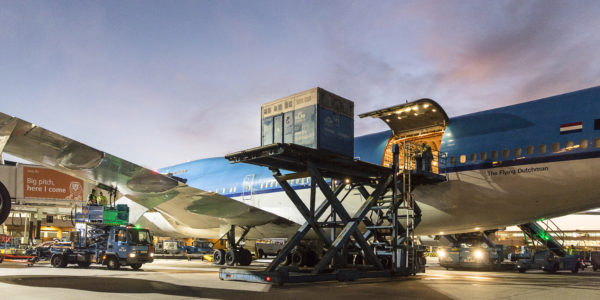 Brief
Which steps can we digitize to make the KLM Cargo import process simpler and more efficient for both customers and employees?
Solution
From a customer and employee journey, service blueprint and storyboard to concrete and prioritized solutions.
The challenge: simplify the complex import process
The world of air freight is rather complex. It's full of codes, abbreviations, stakeholders and ever changing processes.
We were challenged to design solutions that simplify work flows and improve efficiency for both customers and employees.

Get to know the import process and all of its stakeholders
We interviewed and observed KLM Cargo employees and customers to understand all the ins and outs of the import process.
What happens with a package after the plane lands in Amsterdam? What happens at KLM warehouses, at the customer service, and in the parking lot where the drivers are? What are the biggest frustrations that employees and customers face? And where do they see opportunities for improvement? We had a lot of questions and ended up with even more insights.

Design a service blueprint
Firstly, we plotted all the insights on both a customer and employee journey map. From there we designed the service blueprint.
In the service blueprint we mapped out all components and players that contribute to the customer experience in each step of the journey. We made a complex process clear by uncovering all the touchpoints, the technology and the people that KLM needs to deliver the ideal customer experience. End result? An overview of the ideal, future import process.

Bring the ideal process to life with a storyboard
To make sure that the insights were clear and ready to be shared throughout the organization, we brought the service blueprint to life in a storyboard.
In a conversational way, we sketched the new steps and screens KLM customers and employees would have to go through in the ideal situation. We shared and discussed the storyboards in a workshop with all stakeholders. Based on impact and feasibility of the suggested solutions, we've decided together where to start.
Time to work on solutions
The service blueprint and storyboard made clear where KLM Cargo should go next with their import process. And they haven't been standing still since.
Several projects are running to improve the import process. The solutions are both digital and physical. That's one of the reasons why the service blueprint is so powerful: it doesn't only look at the digital aspect.
In the meantime, we have designed the first screens for some of the digital solutions. On to a super easy import process for both employees and customers.