KPN
— Wifi in all nooks and crannies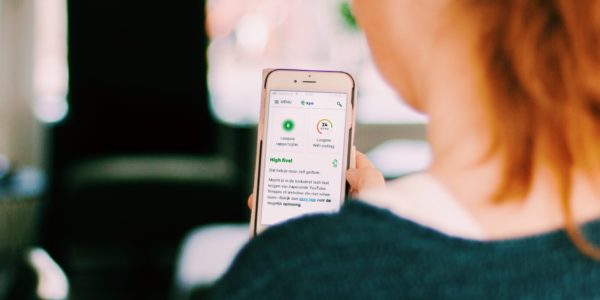 Brief
KPN is known for their reliable network and customers generally experience excellent wifi. However, small disruptions can already have a major impact on the connection. We were asked to create a ​'DIY' flow to help people solve wifi issues.
Solution
Solving wifi issues doesn't always require a repairman; with a quick scan and a few tips and tricks people should be able to get the job done by themselves. We designed a flow in which we take customers by the hand and help them fix their wifi step by step.
The challenge: include

250

+ possibilities in one simple application
Optimizing wifi connection can be a frustrating and complicated job. After all, most people have little technical knowledge regarding network connections.
We were challenged to design a solution that simplifies this process and makes fixing the wifi connection a piece of cake. As you can imagine, catching the abundance of unique questions, issues and options in a simple flow wasn't always easy.

Clarifying the process of optimizing wifi connection
Before we started this project, KPN had already done research amongst customers with bad wifi connections. KPN learned which questions they needed to ask in order to give solid advice on how to optimize wifi connection.
First thing we did was creating a flowchart — a visual display of the process. We mapped out the steps people have to go through and all the possible solutions KPN offers. This helped both us and KPN understand the complex flow.
Next step? A Design Sprint to figure out how to bring the concept to life.

Sprint to a viable concept
We started our challenge together with the most important stakeholders. A whole bunch of messy whiteboards, devoured markers, and just 5 days later, we had a validated concept.
We built a flow in which users have to clarify their situation through a visual of a house; as easy as it gets. Of course, we tested the prototype with users. And it wasn't perfect. But at this stage, it was all about maximizing learning. All the new insights helped us design a high fidelity prototype. From there, KPN's development team started building.
"

Working together with Valsplat was great! A very professional team with an eye for both the customer and

KPN

. The designs were smooth and always tested with real users, which allowed us to get the most out of it."
Revise the WiFi Tuner in order to make it available for anyone
The initial solution was aimed at KPN customers with a poor wifi connection. Because of the great success of the tool, KPN saw an opportunity to make it widely available for anyone.
In order to get the Wifi Tuner ready for wider use, we jumped on board again and had a critical look at the tool. We added new flows and visited customers at home to test in real context. In addition, we have also improved the tone of voice and the design based on test results.

A big win for

KPN

and anyone who wants to improve their wifi connection
KPN had such confidence in its new online tool that they launched it with the big campaign ​"wifi in all nooks and crannies." Consumers were wildly enthusiast and De Consumentenbond also wrote a positive review about it.
Together with KPN, we continue to work on the development of the tool. For example, new customers will soon be able to use the tool when installing their wifi package which will prevent them from having a bad wifi connection in the first place.